Facts
Random Facts and Quotes
Facts | Quotes
Facts
Dom lives in London and has a dog called Hendrix.
His girlfriend has told him to stop swearing when he's on stage. He is the sole reason the Absolution DVD has to have a 'Parental Guidance' sticker on it!
Before MUSE, Dom worked as a school canteen assistant and as a factory worker, where he packed 'Spice Girls' T-shirts.
Dom is left-handed and after a gig in Exeter in March 1995, he broke his arm after whacking a bicycle saddle.
Dom has suffered a few stage injuries - mostly down to guitars being hurled in his direction. In one case he had to have stitches in his eyebrow…
…In another he had to have an injection up his bum!
Dom is a natural blonde, and has grey-green eyes.
Dom's favourite swear word is the 'C' word and his favourite cheese is Brie.
Dom is allergic to apples! They makes his neck swell up and he gets an itchy face!
The artwork for the Muse EP is a cut up and distorted image of Doms face.
Dom's earliest memory is sitting in a ruber ring on holiday and it bursting!
Dom has been voted the 'happiest drummer' for several years running in specialist drum magazine 'Rhythm'.
Yet he hates doing drum solos!
His favourite bands include Jimi Hendrix, Queen, Rage Against The Machine, The Smashing Pumpkins, Radiohead, Pavement, Deus, Millionnaire, Primus, Limp Bizkit, Evil Superstars, Audioslave, The Pixies, Mars Volta, The Police, My Bloody Valentine and Nine Inch Nails to name but a few.
According to Matt Bellamy, Dom is the cleanest member of the band and a very good cook.
He also does most of the housework whilst on tour.
Dom used to hate marmite, but now he loves it!
In 2005 he took part in the London to Brighton bike ride for charity. He made it back to London in time to watch Motley Crue the same night.
Dom is notorious within the band for looking after himself. He carries a 'faff bag' around with him and has regular massages. His faff bag, containing moisturisers, gels, and creams, is said to be "suitcase sized" and has been getting bigger and bigger over time.
Thus said, Dom is actually a smoker….
…And he snores…
Dom is apparently very good with a needle and thread, carrying a pocket-sized sewing machine around with him.
On the odd occasion, Dom plays live in fancy dress! Spiderman and Gandalf being his recent favourites.
Dom is an avid snowboarder…
A remote control car fanatic…
Owns an i-phone…
An XBox 360 and HD television
A Samsung refrigerator with water cooler
And this doormat!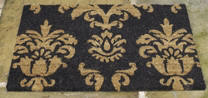 He's also had several helicopter pilot lessons.
Dom want's Queen "Don't Stop Me Now" played at his funeral.
Dom passed his driving test first time.
He has size 8 feet.
His favourite drink is Jack Daniels and Coke.
Before going on stage, Dom does push ups to warm up
Dom has said in an interview that his hair is really thin, and in 2001 Chris Wolstenholm posted on the official Muse Messageboard the simple phrase: "Doms going bald"
When performing in non-English speaking countries, Dom talks to the crowd by reading off a series of cue cards…
…And when performing in the Far East they were sabotaged by his bandmates. This resulted in Dom greeting the crowd by saying: "I have a nice bum!"
Citizen Erased was written around a drum beat that Dom created.
And the drumming on Assassin was heavily inspired by the band 'Lightning Bolt'. He wanted to recreate their 'controlled chaotic nature'.
---
Quotes
"I saw my dad come in and put a load of presents in our stockings. From then on I was happy realising Father Christmas wasn't real. That was about 1996."
Dom on Father Christmas
"She's probably not even aware that she signed us."
Dom on being signed to Madonnas record label
"Most of our first gigs were in typical Devon pubs where you just go and sit down with a drink and watch VH-1 on the telly. They really didn't want to see a band. All they wanted was a quite pint and we were in the corner just making a racket."
Dom on the early days
"He's the most laid back person that I know."
Chris Wolstenholm on Dom
"Dom wants to be a stadium rock drummer and have a sweat towel tech."
Matthew Bellamy, NME 10 Nov 2001
"To train us to the tour the only sport we do is the booze"
Dom on how to deal with life on the road
"We've got 5 buses, I've got one, Chris has one and Dom has 3: one for his clothes, one for himself and one for his ego"
Matt on tourbuses
"We were doing the Big Day Out festival. I went "Hello, Adelaide!" Matt turned round going, "We're in fucking Perth you dick." He was quite pissed off with me for the whole day."
Dom on the funny bits of the 2007 tour